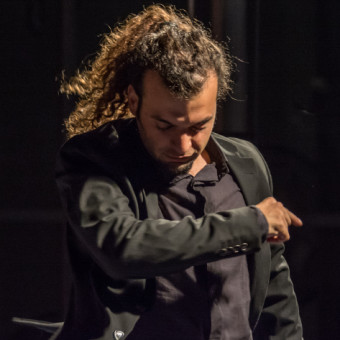 Contact Info
Email:
Phone:
Sandro Macelloni
PIANO, CANTO, MUSIC PRODUCTION
Educations
Laurea in "Discipline del Cinema, della Musica e dello Spettacolo Teatrale" (UniPi) - Diploma in Pianoforte Jazz (CPM Milano) - Licentiate of the London College of Music in Performance – Popular Vocal Singing (Bachelor of Arts)
Skills
Docente di CANTO, PIANO, TASTIERE e SYNT, PRODUCING
Dopo anni di pianoforte classico e il conseguimento del Diploma in Teoria e Solfeggio al Conservatorio di La Spezia, Sandro Macelloni si dedica allo studio della musica moderna, del sintetizzatore e della produzione digitale. Si laurea in "Discipline del Cinema, della Musica e dello Spettacolo Teatrale" all'Università di Lettere di Pisa e successivamente si diploma in Pianoforte Jazz al CPM di Milano.
Inizia ad insegnare Pianoforte, Tastiere, Produzione Digitale, Teoria e Armonia nel 2010 presso Music Academy Pisa e presso Live Music Academy di Sarzana.
Parallelamente, studia canto moderno, prima nell'ambito del teatro e del musical, poi del pop, jazz, gospel e rock. Consegue il titolo, equivalente alla laurea triennale, di "Licentiate of the London College of Music (LLCM) in Performance [EQF level: 6 – Bachelor of Art] – Popular Vocal Singing" presso il London College of Music, University of West London (Londra) ed inizia a insegnare canto nel 2016.
Durante la sua formazione, partecipa a numerosi seminari e workshop con famosi pianisti, musicisti, cantanti e docenti, quali: Dr. Eric B. Turner, Lynn Mackie, Dr. Wayne Barr, Albert Hera, Fulvio Tomaino, Andrea Figallo e Pier Calderan.
E' direttore artistico, pianista, cantante, vocal coach e arrangiatore di Voices Of Heaven Gospel Choir (coro gospel della città di Pisa), The Rising Sound (coro Gospel e Pop di Viareggio), ANIMEniacs Corp. (doppio sestetto vocale che reinterpreta classici Disney e colonne sonore), InSoul (sestetto vocale Soul, R'nB, Gospel e Spiritual), con i quali si è esibito in tutta Italia, collaborando con molti artisti italiani e internazionali, per un totale di circa 450 concerti negli ultimi 10 anni.
E' turnista in diversi studi di registrazione, come pianista/tastierista, cantante, arrangiatore e producer (2Emme Studio, Orfeo Recording, Elfland Studio, Almost Famous, Scarpera Records e altri).
PRODUZIONI
– "Il Delirio e la Cura" (2004), album della band Kamala: compositore, tastierista e arrangiatore
– "La Legge del Folle" (2006), EP della band Sidd: compositore, tastierista e arrangiatore
– "Alice In Wonderland" (2011), colonna sonora dell'omonimo spettacolo teatrale inedito ispirato all'opera di Lewis Carroll, regia di Claudio Benvenuti: compositore e produttore
– "Shout!" (2012), album di cover Gospel e Spiritual del Voices Of Heaven Gospel Choir: pianista e arrangiatore
– "24:00" (2014), rock-musical nato in seno alla Music Academy Pisa e vincitore, come miglior opera musicale inedita, di un concorso nazionale indetto da Anart, Teatro Sistina Roma e SIAE: cantante, corista e arrangiatore
– "Reflections" (2017), album prog-metal della band MindAhead: arrangiatore e producer
– "ANIMEniacs Corp." (2019), EP di cover inedite Disney dell'ensemble vocale: direttore artistico, cantante e arrangiatore
– "A Spasso con Walt" (2020), album di cover inedite Disney dell'ensemble vocale ANIMEniacs Corp.: direttore artistico, pianista, cantante, arrangiatore e producer
– "9 Doors" (2022), album prog-metal (in imminente uscita) della band MindAhead: cantante, autore, arrangiatore e producer